Cheap Wholesale Fresh Farm Table Eggs Brown/White Shell Chicken Eggs. 0682791612 - Dundee
Tuesday, 28 January 2020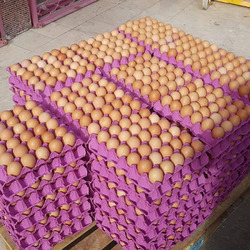 Item details
City:
Dundee, KwaZulu-Natal
Contacts

melissazungi

0682791612
Item description
We supply bulk fresh table brown and white chicken eggs, all sizes available at different prices indicated below and we offer various packaging sizes as desired by clients.
Fresh White and brown eggs
Color White & Brown
Size Small, Medium, large. extra large, Jumbo large
Egg Size
Small eggs :40 - 45 grams
Medium Eggs:45 - 50 grams
Large Eggs: 50 - 55 grams
Extra Large Eggs: 55 - 60 grams
Jumbo Large Eggs: 65 - 70 grams
Yellow yolk
No broken shell
No smell
Total number of eggs inside one box = 360 eggs
Egg Shelf Life = 3 Months.

Buy egg in bulk and get good discount prices. Contact us now to place an order.